Helping businesses find Accounting , Finance, HR and IT talent from a trusted source in the Dallas, Fort Worth and Austin area markets.
Direct Hire Search
---
We believe people are a company's most valuable asset. Whether you need a strategic CFO, Information Technology Professional, Human Resources Generalist, mid-level manager or a hands-on accountant, we follow a strict internal search process that identifies professionals who have the talent to meet and exceed your expectations. We will work closely with you while providing outstanding talent and service.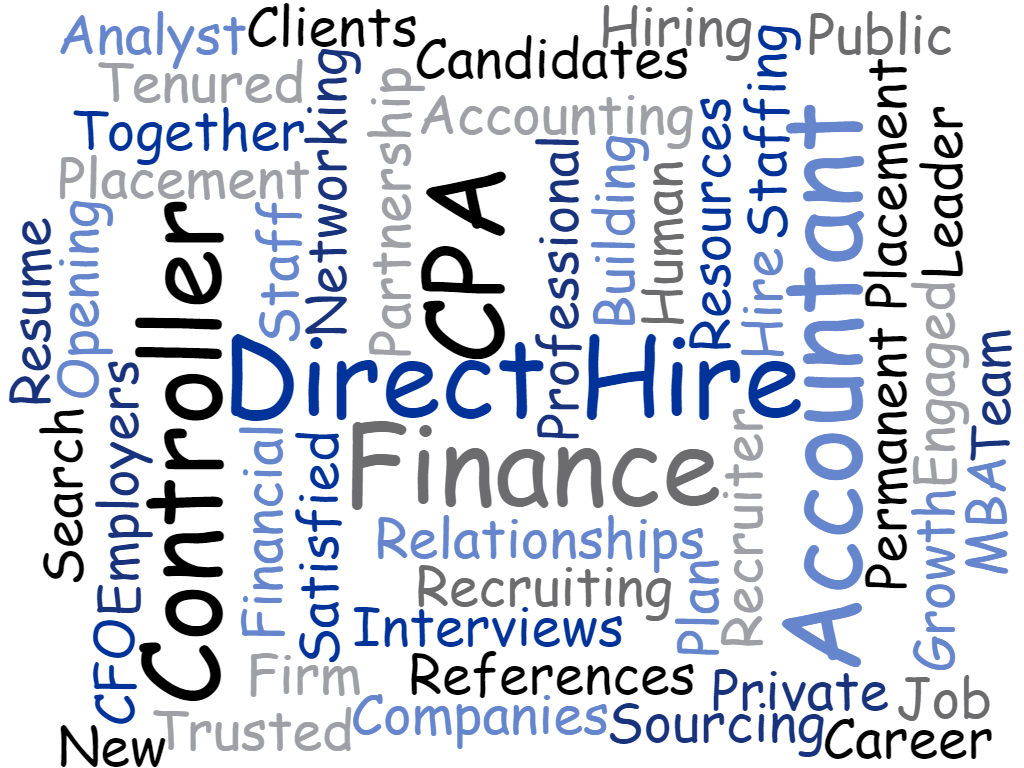 We approach every direct hire search like a Big 4 consulting project. We will:
---
Understand our clients' needs and tailor our search plan to source exceptional talent.
Leverage our database of over 90,000 candidates, our extended professional network and candidate referrals.
Meet candidates face-to-face to assess skill sets and ensure the best personality and culture fit for our clients.
Drive toward client-established deadlines and deliverables while proactively communicating our search progress.
Continue search efforts until the winning candidate is hired and in the job.
We understand the importance of a corporate budget and the pressure to reduce costs. You can be confident that our customized search process will identify candidates that you would not be able to find on your own. In the end, we don't earn a placement fee unless you are 100% satisfied!
Contract Staffing
---
Are you looking for experienced accounting, finance, HR or IT professionals to see projects through? Do you need interim help to backfill for someone going on leave? We can find the right candidate with the perfect skills for both short-term and long-term solutions.
We can be a resource to supplement and ease your team's existing workload and help maintain morale during busy seasons:
---
Provide staff augmentation at every level within the accounting, finance, HR or IT organization.
Maintain a virtual bench of 500+ candidates available for backfill/interim/project work on a just-in-time basis.
Introduce new skills and expertise to the organization at a flexible cost.
A two-day guarantee. If you're not satisfied after 2 days we won't bill you.
Our Contract Services team works closely with clients to find reliable resources that you can count on. We are always standing by, prepared to assist our clients at a moment's notice.